Description
Character rebirth, referred to as Reset, allows you to start the game pumping the character first but at the same time has initial bonuses, which allows you to increase its elevated level.
Each rebirth resets all your Stats Points to their original value, but gives them unallocated depending on the number of Resets. In addition, your character also becomes stronger with each reset (during a siege, this bonus does not work) and can eat more fruit (more in Fruit System) to strengthen yourself.
How to do rebirth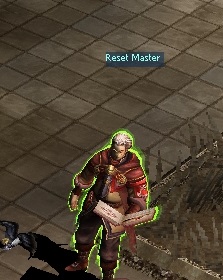 For rebirth, you will need to reach a certain level and have the necessary amount of resources with you. More in the section: Rebirth Requirements (Resets).
When you are ready to reset. Go to Lorencia (coordinates 135, 131) to NPC: Reset Master.
Stat Points
Number of unallocated Stat Points after Reset:
| Class | Stat Points | Additionally |
| --- | --- | --- |
| Dark Knight | 500 *(Multiply) on the received Resets | No |
| Dark Wizard | 500 *(Multiply) on the received Resets | No |
| Elf | 500 *(Multiply) on the received Resets | No |
| Summoner | 500 *(Multiply) on the received Resets | No |
| Magic Gladiator | 500 *(Multiply) on the received Resets | No |
| Dark Lord | 500 *(Multiply) on the received Resets | +100 to the Command parameter (It is forbidden /readd) |
| Rage Fighter | 500 *(Multiply) on the received Resets | No |
Stat Increases
After each rebirth (Reset), the characteristics of your character will be increased by:
Class: Dark Knight
Parameter
Increase
Damage physical and magical
+12
Attack Rate (in PVP and PVE)
+48
Defense
+12
Def. Rate
+24
HP/SD
+80/160
Class: Dark Wizard
Parameter
Increase
Damage physical and magical
+12
Attack Rate (in PVP and PVE)
+48
Defense
+12
Def. Rate
+24
HP/SD
+80/160
Class: Elf
Parameter
Increase
Damage physical and magical
+12
Attack Rate (in PVP and PVE)
+48
Defense
+12
Def. Rate
+24
HP/SD
+80/160
Class: Summoner
Parameter
Increase
Damage physical and magical
+12
Attack Rate (in PVP and PVE)
+48
Defense
+12
Def. Rate
+24
HP/SD
+80/160
Class: Magic Gladiator
Parameter
Increase
Damage physical and magical
+12
Attack Rate (in PVP and PVE)
+48
Defense
+12
Def. Rate
+24
HP/SD
+80/160
Class: Dark Lord
Parameter
Increase
Damage physical and magical
+12
Attack Rate (in PVP and PVE)
+48
Defense
+12
Def. Rate
+24
HP/SD
+80/160
Class: Rage Fighter
Parameter
Increase
Damage physical and magical
+12
Attack Rate (in PVP and PVE)
+48
Defense
+12
Def. Rate
+24
HP/SD
+80/160
Rebirth Requirements (Resets)
Requirement Zen: 5kk *(Multiply) on the received Resets
| Resets | Level | Jewels |
| --- | --- | --- |
| on 1 resets | 350 level | No |
| on 2 resets | 360 level | 1 Jewel of Bless |
| on 3 resets | 370 level | 2 Jewel of Bless |
| from 3 up to 4 resets | 380 level | 3 Jewel of Bless |
| from 4 up to 5 resets | 390 level | 3 Jewel of Bless |
| from 5 up to 10 resets | 400 level | 3 Jewel of Bless |
| from 11 up to 25 resets | 400 level | 10 Jewel of Bless |
| from 26 up to 50 resets | 400 level | 20 Jewel of Bless |
| from 51 up to 100 resets | 400 level | 30 Jewel of Bless |
| from 101 up to 150 resets | 400 level | 40 Jewel of Bless |
| from 151 up to 200 resets | 400 level | 50 Jewel of Bless |
| from 201 resets | 400 level | 60 Jewel of Bless |